Rush University System for Health has opened the digital front door to on-demand care. And aha! has provided the key. Based in Chicago, Rush University System for Health comprises an extensive physician network and numerous facilities such as Rush University Medical Center. Over the past few years, the healthcare system has responded to the rise of new care delivery models including outpatient and virtual care (including e-visits, which Rush made available in 2018). Recently, Rush launched Rush On Demand, which provides simplified access to quick care (including virtual care) options without an appointment for common conditions and everyday health concerns. Rush wanted to make Rush On Demand more user friendly. So Rush partnered with aha! to redesign and streamline Rush On Demand with a more intuitive interface based on patients' needs rather than Rush's services.
The Challenge.
Convenient medical care, including virtual care, has been an increasingly important source of growth for hospitals. Rush has responded by offering options such as e-visits (launched in 2018) and on-demand video consultation (since 2019). Recently, Rush unified its convenient care solutions under the "Rush On Demand" brand to appeal to patients whose expectations are being shaped by the best retail experiences. This approach created new challenges related to the patient user experience, ranging from ease of navigation to the presentation of healthcare options. As a result, even though Rush had already taken some critical steps to provide more convenient care (including synchronous and asynchronous virtual care options), Rush On Demand was not experiencing expected adoption.
The Solution.
We first sat down with Rush to assess the current state of Rush On Demand. We dug deep to understand the expectations of Rush patients, and we compared those expectations against the disparate experiences Rush was currently providing. As part of this research, we created personas, or composite portraits of typical Rush patients, ranging from Millennials to Baby Boomers. Our personas helped Rush appreciate more fully that its patients needed transparent, easy-to-use online tools to help them research their medical needs before committing to care. In addition, our research underscored that its patients were averse to going to the doctor in person and enduring long wait times before getting care – and this was before the COVID-19 pandemic would make in-person visits even less attractive.
We uncovered an opportunity for improvement. We found that the current convenient care options, while helpful, could do a much better job making it easier for people to research their medical needs before choosing care. Rush On Demand was organized around all the services it provides. This channel-driven approach also required potential patients to choose a physician or care modality first before identifying the type of care the patient needed. Consumers needed to determine how to meet their needs from an exhaustive list of dissimilar (and largely unfamiliar) services, functions, capabilities, tools, and information. As a result, Rush On Demand suffered from low adoption and conversion.
The aha! team asked, What if Rush On Demand were organized around patients' medical needs instead of the hospital's type of service provided? We designed a prototype for a website organized around medical symptoms instead of medical services. Then we tested and validated the prototype with a panel of consumers using Remesh, a tool that makes it possible to have a live conversation with an audience at scale, using artificial intelligence to analyze and organize their responses in real time. The user testing confirmed that we were on the right path by revamping Rush On Demand.
The site now represents a vast improvement by offering a cleaner and consumer-centered experience. Visitors are now greeted with a simple question: what's wrong?: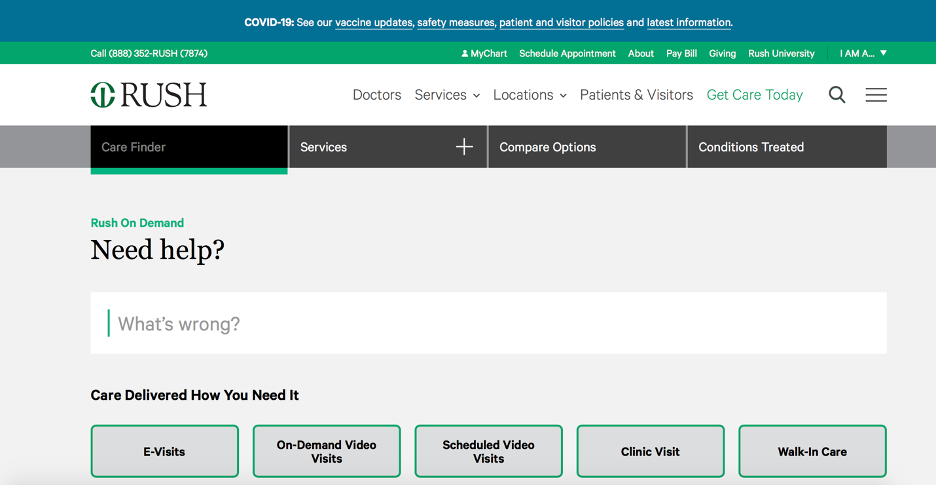 From there, they may select from a wide range of needs and symptoms, such as abdominal care, back pain, fatigue, mental health, and much more.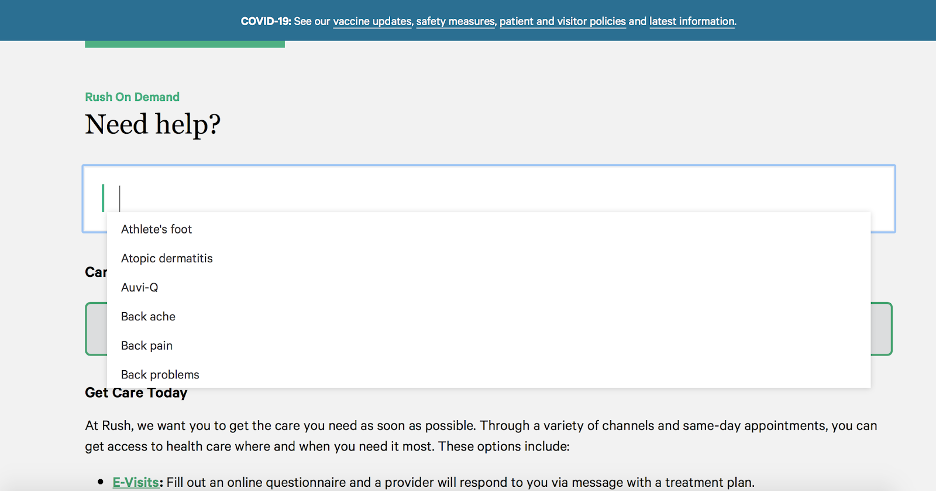 After the consumer makes a selection, Rush On Demand asks more questions to help them figure out the best option, as this example shows: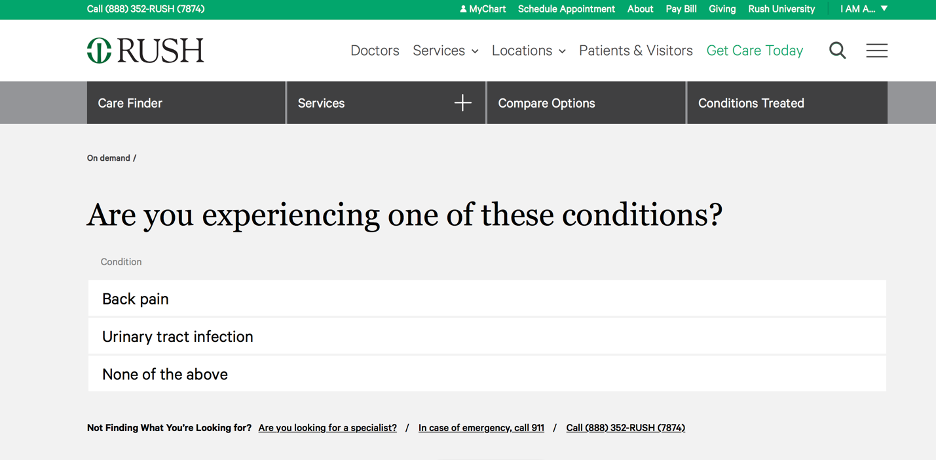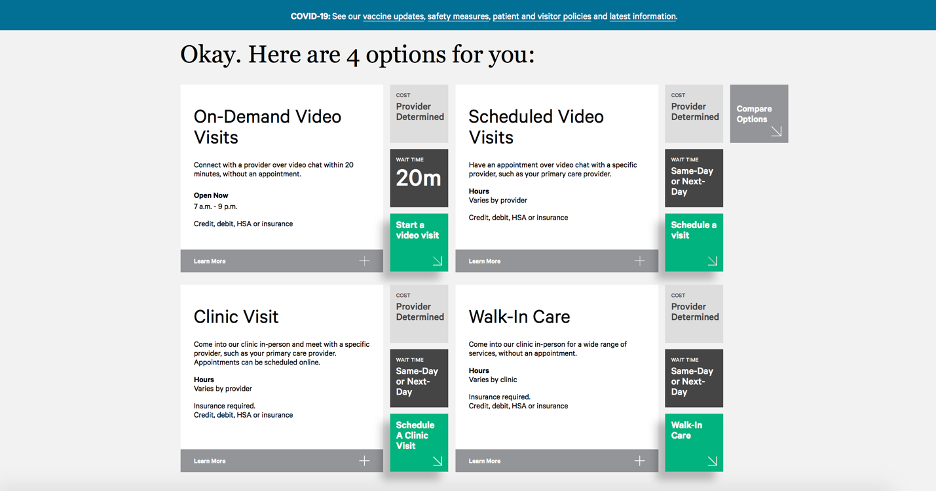 Crucially, the new navigation does not require consumers to select a physician first if they need one. This simpler approach makes it easier for consumers to focus on finding a solution for their healthcare needs first and foremost. In addition, Rush On Demand offers a consistently strong user experience for all the ways consumers discover it: desktop, mobile, and the Rush On Demand native app.
Remesh played a crucial role in our partnership. Remesh makes it possible for a design team to get real-time, online feedback from large groups of consumers. The Remesh platform blends contextually relevant, statistically significant findings with a manageable and affordable timetable – all while allowing the research team to remain empathetic toward the key audience. With Remesh, the aha! team quickly uncovered not only what consumers wanted but why.
The Result.
aha! was able to help the Rush team understand both whether consumers would like the concept or not, and answer the "why" behind consumer responses - therefore better anticipating consumer needs along with the corresponding experience requirements. One key finding was that the new Rush On Demand umbrella brand moved the needle on consumer willingness to engage in or use telehealth services in general. Another was that the retail-inspired and simplified experience helped improve awareness, consideration, and adoption of these new care delivery models as evidenced by an increase in pageviews of over 200%, and a decrease to the "no show" rate for scheduled visits of nearly 41%.